Ever get tired of the usual sightseeing tours? If that's the case, we might have something you could like more. You're probably familiar with VR glasses as they've been around for quite some time. What's great about them is that they can make history far more interesting by bringing it to modern life.
So, if you're in Zadar, you might wanna check the Virtual Reality Tour of Zadar's history.
See 2000 years of Zadar's history through a pair of VR goggles
A Virtual Reality tour is much more than just a sightseeing tour. It is an audio-guided walking tour that will take you on a historic trip through different periods. It includes visiting 7 locations displayed through a Virtual Reality headset.
In an hour and a half, an assistant will lead as you relive one historic episode after another through your VR goggles. And don't worry about understanding the audio as the guide is available in 7 languages: English, German, Spanish, French, Italian, Croatian and even Esperanto!
What locations are included in the tour?
As mentioned above, we'll be taking you through 7 locations that have had significant importance in Zadar's history. Let us briefly introduce you to them.
Roman Forum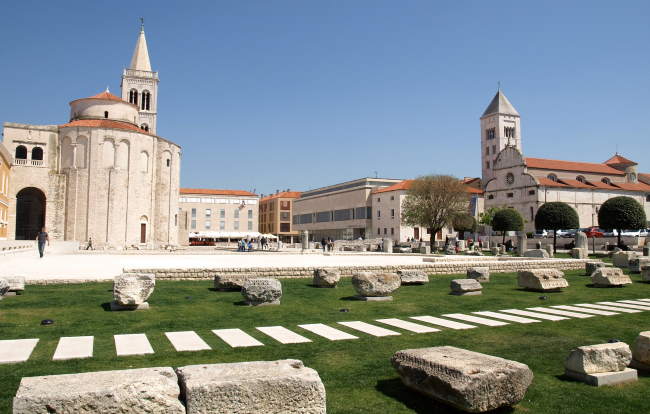 The first location is the famous Roman Forum, commissioned by the first Roman Emperor Augustus. It is also known for being the largest forum in Croatia. It was the centre of the entire public life back in Roman times.
Green Market
After that, the path leads you to Green Market. Ever since the Roman Forum, Green Market has been one of the unavoidable signs of Zadar's urban identity. 
Petar Zoranić Square
The next thing you'll be seeing is Petar Zoranić Square. Petar Zoranić was a Reneissance novelist from Zadar. He is the most known for writing the first Croatian novel called The Mountains.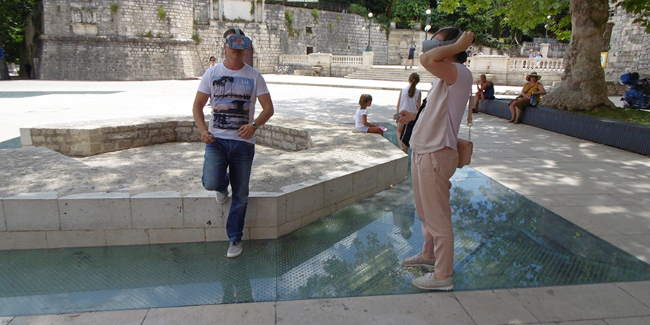 The square is in the historical centre of Zadar and surrounded by many famous and important buildings to the city.
Fourth Crusade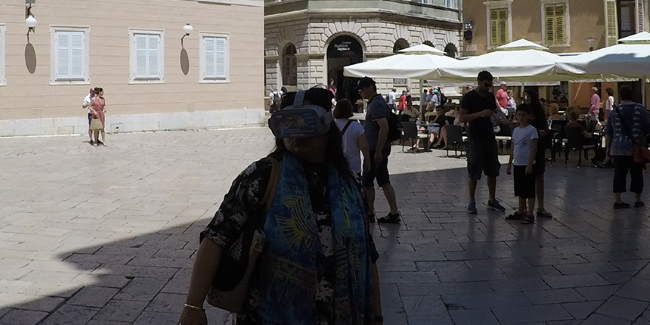 Moving along, you'll find yourself in the heat of the battle of the Fourth Crusade. The Siege of Zara (or Zadar) was the first major action of the Fourth Crusade and the first attack against a Catholic city by Catholic crusaders.
Cathedral of St. Anastasia
Following the steps, you'll see a Romanesque beauty – The cathedral of St Anastasia. The site has even been submitted to UNESCO's Tentative List of World Heritage Sites. 
Church of St. Chrysogonus
Step by step and you're at the Church of St Chrysogonus. The tongue-twisting name comes from the patron saint of Zadar. Its origins date way back to 1175, which represents the high level of development of Zadar in the 12th century.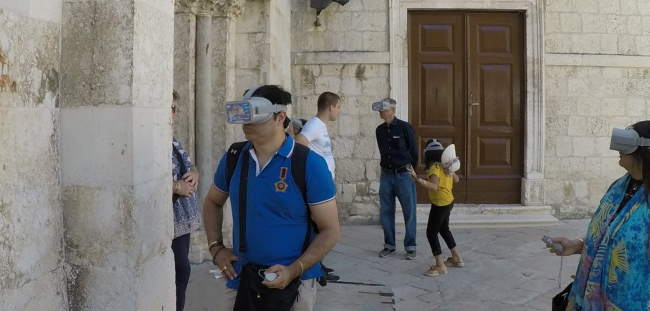 Together with the Cathedral of St Anastasia, it is the most significant example of Romanesque art in the architecture of Dalmatia.
Bombarding of Zadar in World War II
Finally, the last point of your virtual reality adventure. To many, World War II is the most interesting part of history. To Zadar, it was one of the most turbulent times.
What has led to Zadar being bombarded? How did Zadar look back then? You can find that out by booking a Virtual Reality tour!
Booking the VR tour of Zadar's history
For the price of 25€ per person (discounts for children, students and seniors), trust us – you'll get your money's worth.
The price includes:
A friendly assistant who will be at your disposal throughout the tour
VR glasses and a controller
Audio Guide available in 7 languages (English, German, Spanish, Italian, French, Croatian, Esperanto)
Physical visit to locations in the old town
Intense virtual reality experience (amazing 360° visuals, 3D objects, high-resolution animation and sound effects).
VAT.
Book Online:
You can book your excursion through our online booking system. The tour starts every day at 9 or 11 am, and later at 6 or 8 pm. Please contact us if you need more information or some different arrangements.
We are operating according to the current recommendations of the World Travel and Tourism Council (WTTC) and the Croatian Institute of Public Health.
Safe stay in Croatia is a national designation of security protocols in tourism and hospitality that was initiated in 2021. It is awarded to stakeholders in the tourism sector by the Ministry of Tourism and Sports. This designation allows visitors to easily identify destinations, accommodation providers, transport, tourist attractions and other facilities that have adopted global standards for health and hygiene.