If you're traveling through Croatia and you're visiting Zadar and Šibenik, right between those two cities you'll find a unique site – the Vransko Jezero!
This wonderful lake has been declared a Nature Park in 1999 and since then it's been a must-visit for every tourist traveling through Dalmatia! With area of nearly 60km², half of which is the lake itself, this wonderful park is filled with natural attractions such as brackish water and cryptodepression (which means that a part of the lake lies below the sea level).
Why visit Vransko Jezero?
However, one of the most popular characteristics of the park is its Ornithological reserve which is filled with great biodiversity. Being a fairly unusual combination of land and water, this reserve serves as home to many different species of plants and animals. This is the reason why many nature-lovers have this National Park on their bucketlist!
Aside from just admiring the beautiful nature and wildlife, this park offers some great programs for visitors as well. You can enjoy walking down one of many educational trails, you can have fun at the adventure park, go cycling along the lake or kayak through the lake itself!
Educational trails
Visiting this gorgeous lake can be a relaxing trip, but it can be educational as well!
Every educational trail will teach you about a different topic, so you can choose to walk down the birds trail, the Kamenjak viewpoint trail, botanical trail, fish trail or trail Modrave.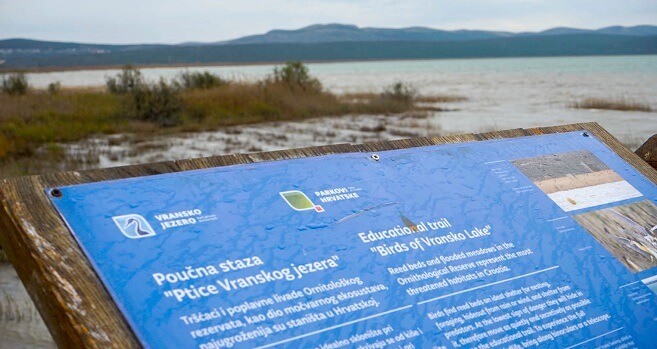 Each of these trail offers educational panels which will introduce you to its topic. You can read all about the rare plants, fish and bird species, you can learn about the history, culture, folk customs and natural features of the park as well as how the farmers used to border their estates and how they worked with stone to clean the land.
Adventure park
If you're a sports person or adventure lover, go and explore the adventure park which is located near Crkvine!
There you can test your skills of walking on wooden mushroms, you can experience walking across hanging bridges and you can try and prove your rock climbing and zipline capabilities!
Check out the price list for this adventure park on Vransko Jezero official website!
Cycling and Kayaking
Aside from walking around the lake and admiring the nature that way, you can experience the lake's beauty in two other ways: by cycling or kayaking!
If you're into cycling, you'll be glad to know that there are over 50km of bike routes going all around the Vransko Jezero! However, keep in mind that you have to be prepared and bring enough water with you on this cycling trip because there's not much convenience stores on the trail!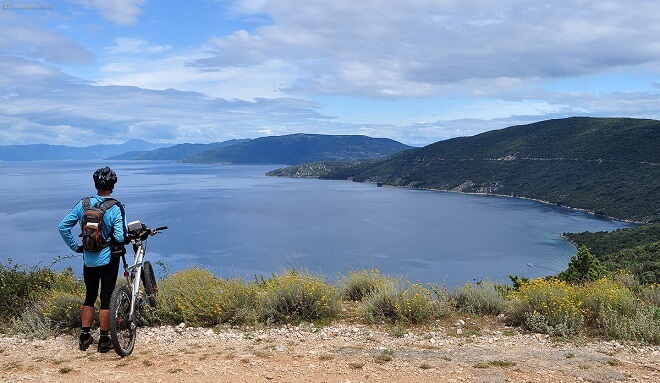 Kayaking offers one-of-a-kind view of the lake and the park surrounding the lake! You can paddle along the lake and discover its hidden beauties in a single, tandem or a fishing kayak which can be rented at the park!
Visiting Vransko Jezero
If you're interested in visiting this beautiful Nature Park, you can check the price list and other info on Vransko Jezero official website!
However, the easiest way to organize the excursion to this wonderful site is by using Romeo&Juliet Travel Agency services. We will take care of all the arrangements for you and get you to Vransko Jezero from you accommodation and get you back when your amazing day at the lake is over.
All you have to do is contact us and we'll take care of the rest and you can spend your time packing!
The price includes:
Transportation to the lake and back
Private guide at the lake
Entrance ticket for Kamenjak Hill and Ornithological Reserve
Lunch in Maškovića Han
We are operating according to the current recommendations of the World Travel and Tourism Council (WTTC) and the Croatian Institute of Public Health.
Safe stay in Croatia is a national designation of security protocols in tourism and hospitality that was initiated in 2021. It is awarded to stakeholders in the tourism sector by the Ministry of Tourism and Sports. This designation allows visitors to easily identify destinations, accommodation providers, transport, tourist attractions and other facilities that have adopted global standards for health and hygiene.