Croatia is a Mediterranean country filled with beautiful places just waiting to be explored. However, walking around ancient cities and seeing all the beautiful architecture is one thing, but looking at those places from the peaceful Adriatic sea is a completely different experience.
Sea kayaking offers just that – a fantastic view of Zadar and Dugi Otok from the sea!
Dugi Otok kayaking
This kayaking adventure starts from Puntamika. From there you will paddle toward Zadar Old Town and pass the beautiful Sea Organ and Salutation to the Sun, two symbols of Zadar.
After that, you'll see the Riva, the ancient Roman Forum and the unique St. Donat's church.
Although paddling on the sea sounds a bit tiring, the view you'll have of the town will make it all worth it. And trust us, nothing can match this wonderful experience!
The destination of this sea kayaking adventure is Dugi Otok, a wonderful island great for unwinding and exploring.
When you get there, you'll have a chance to see some of the hidden bays and a unique cave which you can enter only by kayak or by swimming. Also, you can relax and swim on Veli Žal, one of the most beautiful beaches in Croatia.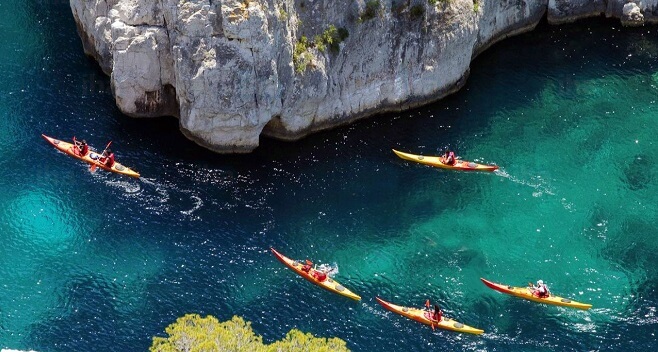 Sea kayaking is the best kind of touring and discovering new places for a couple of reasons: it's peaceful, it offers one-of-a-kind view and it's an awesome chance to put some great photos of your vacation on Instagram or Facebook!
Be sure to pack a camera with you, and make sure it's waterproof so you can take even better photos to brag to your friends with!
Booking Zadar kayaking adventure
We're glad you're interested in experiencing Croatia in this adventurous way! That's why Romeo&Juliet Travel agency will make all of the arrangements for you! 
That way you can start packing right now and worry-free! Just contact us and we'll make all it all happen. The price of 75€ per person includes:
       

Full sea kayaking gear

       

Certified local guide

       

Dry bags for personal belongings

       

Insurance

       

Ferry & van transport
We are operating according to the current recommendations of the World Travel and Tourism Council (WTTC) and the Croatian Institute of Public Health.
Safe stay in Croatia is a national designation of security protocols in tourism and hospitality that was initiated in 2021. It is awarded to stakeholders in the tourism sector by the Ministry of Tourism and Sports. This designation allows visitors to easily identify destinations, accommodation providers, transport, tourist attractions and other facilities that have adopted global standards for health and hygiene.