Description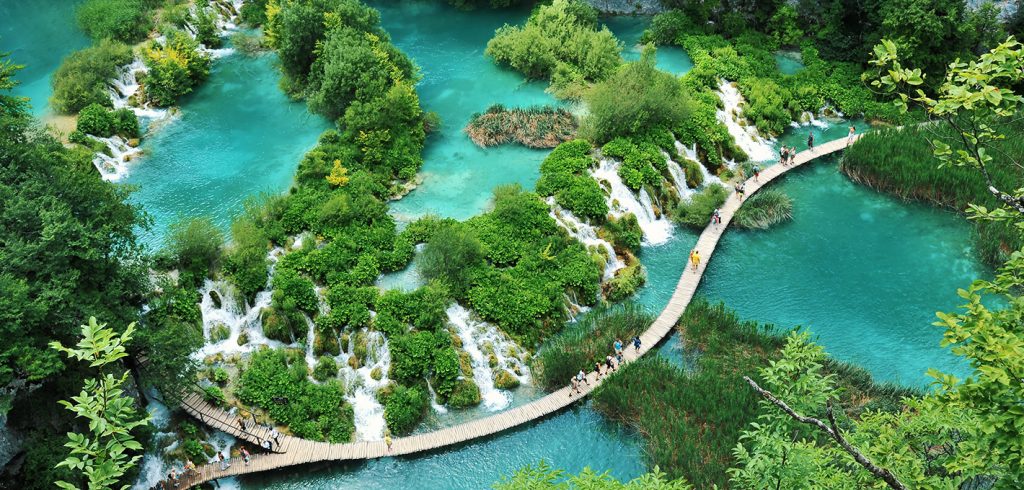 Plitvice Lakes National Park Excursion is a unique experience for everybody. We organize trips for small groups (2 persons is a minimum).
We will pick you up at your location (hotel or cruise ship port) and our friendly private guide will make sure you get the most out of this unique day trip. Transportation and lunch package are all included in price so you can fully relax and let us worry about organizing everything.
Plitvice Lakes – what can you expect
Be ready for the most beautiful sights, the nature as it once was and as it still should be. Clear water you can actually drink, waterfalls running from one lake to another connected in an amazing web surrounded by forest, wild animals and fresh air, thus creating a wonder of nature – Plitvice.
Plitvice Lakes is a complex of 16 lakes of various sizes that pour one into another, divided by travertine barriers. The algae, mosses and plants create extraordinary palette coloring lakes in all different shades of green and blue. Travertine formations are one of the most important natural phenomenon as it is the main creator of the lakes and it takes centuries for its creation. It takes a year for creation of 3 mm of travertine. Furthermore, all these natural processes still take place today and continue on changing Plitvice Lakes even today.
Rich flora and fauna make Plitvice a living nature that will welcome you in its forest paths, meadows and caves. The most interesting inhabitant of the park is famous Brown Bear, as well as various species of fish, birds and other smaller forest animals. Endemic species of plants make the Lakes even more valuable.
All these reasons were more than enough to declare Plitvice Lakes National Park in 1949 and for inscription at the UNESCO World Heritage in 1979.
Schedule
Departure 

8:00

Exploring the park 

9:30

Boat tour 

11:30

Lunch time 

12:00

Exploring the park 

12:30

Departure 

14:45

Arrival in Zadar 

16:30
General Information
The Plitvice Lakes National Park Excursion by Romeo&Juliet Travel Agency is your chance to enjoy the wonderful Croatia from within. Private guide will lead you to experience intimately Upper and Lower Lakes by foot and by boat, right next to the lake or from the hills, in the cave and below the waterfalls, including the Big Waterfall of 78m high.
Our travelers rated Plitvice Lakes Excursion as "Excellent" on Trip Advisor!
You can book your excursion through our online booking system or please contact us if you need more information or some different arrangements.